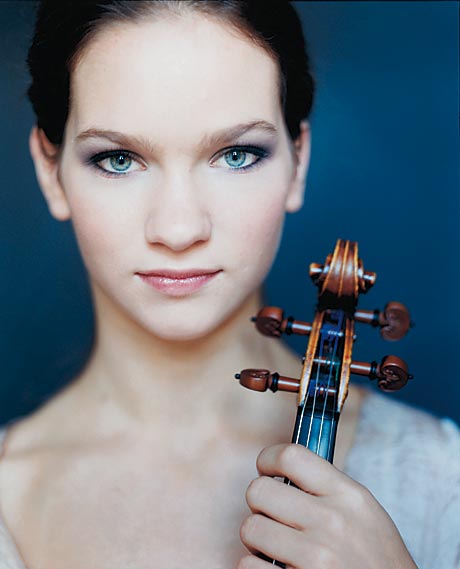 Image Source: www.scena.org


It is perhaps best put that a good concert reminds you why music is special, and just invites you to play, play, play… I'd rather not relate descriptions about the concert because sound is such a difficult thing to relate and recreate in words. Instead, for violin enthusiasts, I'll relate my opinions as to certain things that Hilary Hahn does to get the sound she gets. I'm not saying that everything here is correct – rather that is correct for her, as musical choices are always personal, but hopefully can be helpful nonetheless.

Hilary's Choices…
1. Minimalizing shifting means moving up with the fourth finger more often than would be convenient – including trills with the fourth finger.
2. Arm vibrato while keeping other fingers on the fingerboard – meaning vibrato with more than than one finger at a time.
3. Keeping the violin stable, slightly less on the shoulder – and movements with the body rather than the violin itself, down and back, occasionally to the left, and rarely if ever up.
4. Being free in playing means allowing even things like leg movements and stepping from side to side while retaining a center position; basically making violin playing not confined to the upper body. But still keeping all movements intentional, with purpose to the sound.
5. Making use of rests in the music to release the violin and relax.
6. Minimalizing bow movement above the string, working with creating tone with the bow close to the bridge and not sacrificing the strength of the arm to the wrist or bow fingers.
7. Using downward/vertical-start bow-strokes, and using areas in the frog area.

…and Just One of Mine
Jade Rosin; with thanks to Mei Yoke for the gift. Great clarity, perhaps even a little more sound, and less residual rosin than the Bernadel, which is still a very good rosin. I've been recommended the Kaplan too.